Chiang Mai is a wonderful city located in Northern Thailand that offers an incredibly huge selection of cafés & restaurants. Finding the best ones is hard but after living there for quite a while now, I can confidently tell you the best places for a scrumptious breakfast in Chiang Mai.
As the second largest city in the country, Chiang Mai has a rich culture and many wonderful sights to explore. But, if you're looking for a delicious breakfast, you won't have to venture far. This blog post will explore some of the spots that will make your morning meal special and memorable. From traditional Thai dishes to modern international offerings, Chiang Mai has something for everyone. So, let's dive in and explore the best breakfast spots in Chiang Mai!
Mitte Mitte
Mitte Mitte is the perfect place to start your day right! With a selection of delicious meals such as egg benedict, bagels, and sandwiches, you'll be sure to find something to suit your tastes. And if you're a coffee lover, you're in luck: Mitte Mitte not only serves some of the best food in town, but their coffee is top-notch too.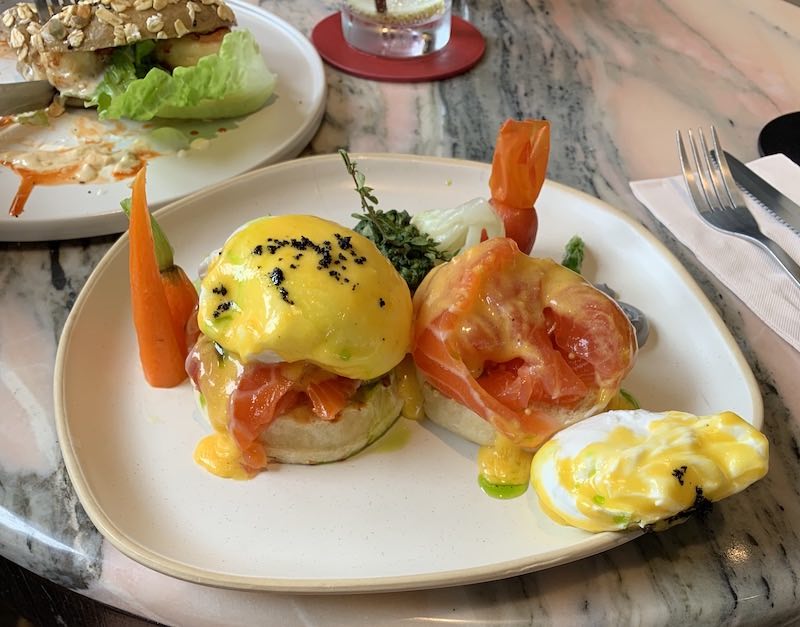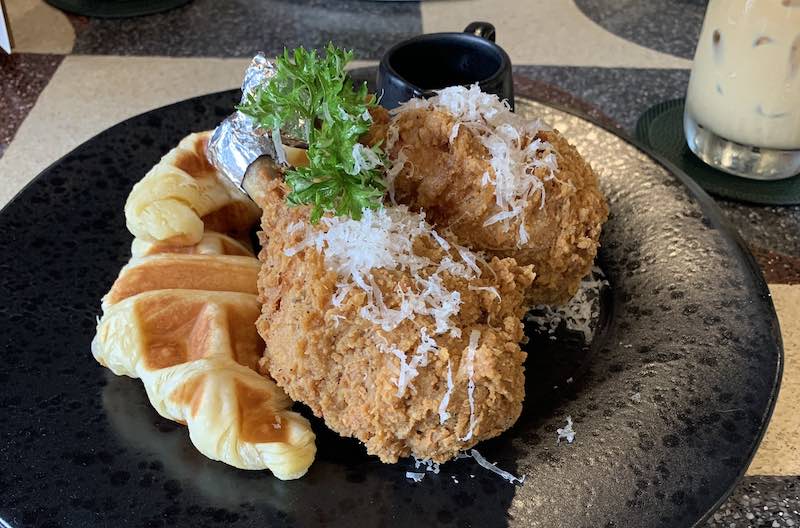 The cozy atmosphere of this café combined with the exceptional level of service makes it a great place to relax and have a good time. With a great food selection, high-quality food and coffee, and friendly service, Mitte Mitte ticks all the boxes of a perfect breakfast spot. The only downside is perhaps the higher price point. But you certainly get what you pay for in terms of quality and experience. So if you're looking for a good breakfast spot near Wat Chomphu, look no further than Mitte Mitte.
Bella Goose on the hill Café
Experience a taste of American-style comfort food at Bella Goose on the Hill, one of Chiang Mai's most popular breakfast cafés. This place is run by an American couple who have put a lot of love into their menu, food, and coffee. From delicious sandwiches and pancakes to their renowned chicken and waffles, you can find something to satisfy your cravings. Best of all, their coffee is freshly roasted in-house, demonstrating their commitment to quality.
Be aware that the cafe tends to be quite popular with American ex-pats, especially during high season, so you may have to wait for a table. However, their kitchen is very efficient, so once your order is placed, you won't have to wait long to enjoy your meal. Stop by Bella Goose on the Hill and enjoy a classic American breakfast in Chiang Mai.
Sun Rays Breakfast & Brunch
Sun Rays is an absolute gem for breakfast and brunch! Located near Wat Phra Singh, this tiny café offers some of the tastiest Thai options, as well as delicious waffles, French toast, sandwiches, and bread. The staff is friendly and the food looks amazing, almost too good to be true! Plus, you can pair your meal with a great selection of coffee, smoothies, or Thai tea. Don't let the 4.4 scores on Google fool you! Sun Rays is much better than other places in the city, many of which seem to be quite overrated. Visit Sun Rays to enjoy a delicious Thai-fusion breakfast with picture-perfect plates.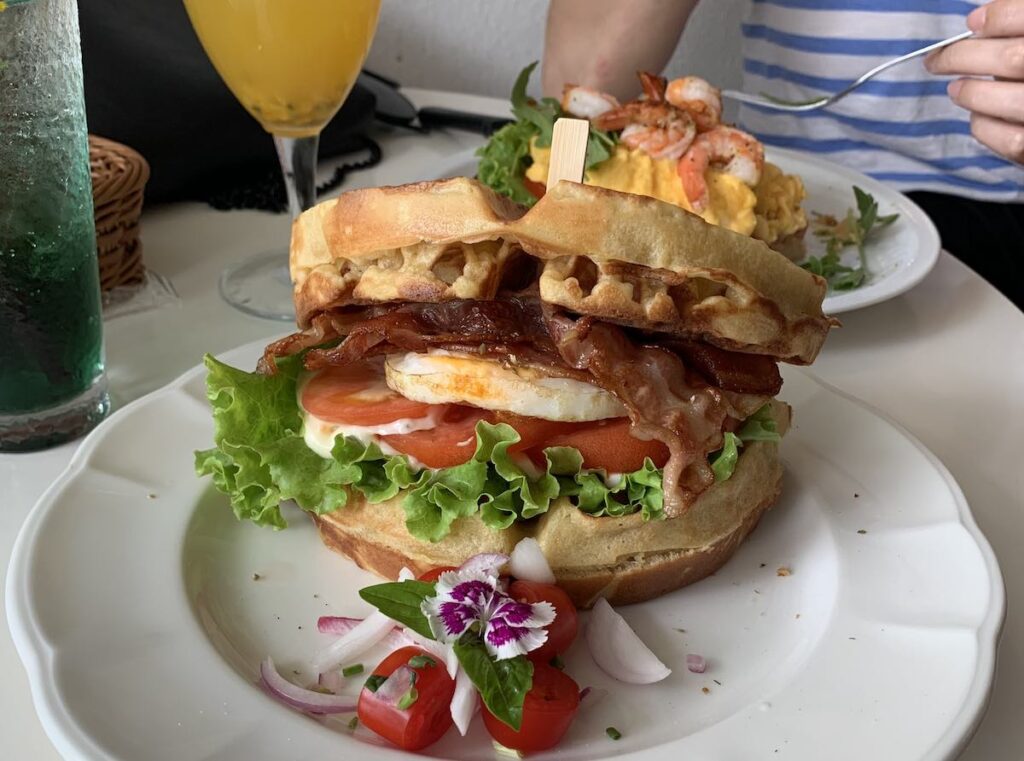 Sunday Baker
Indulge in the deliciousness of Sunday Baker's freshly-baked pastries and croissants for breakfast! This international cafe will transport you to a chic European bistro with its French-style breakfast options. Savor a perfectly cooked croissant with a rich and perfectly balanced hot chocolate, or try their delicious Eggs Benedict.
No matter what you choose, you can expect professional service and excellent quality. The only downside? The price and small portions may not be suitable for everyone. If you're looking for a small breakfast and love great pastries, visit Sunday Baker near Wat Phra Chao Mengrai Temple in Old Town.
Chiang Mai Breakfast World
Tired of the traditional sweet and/or Asian breakfast options? Chiang Mai Breakfast World is the perfect place to get a unique breakfast experience. An array of European breakfast options await you here - salami, cheese, ham, and German bread are just some of the delicacies you can enjoy.
Plus, there are also English, French, and other breakfast items available. Try their delicious omelets with mushrooms, avocado, salmon, or grilled bacon. Or, opt for something sweet such as pancakes, croissants, or French toast.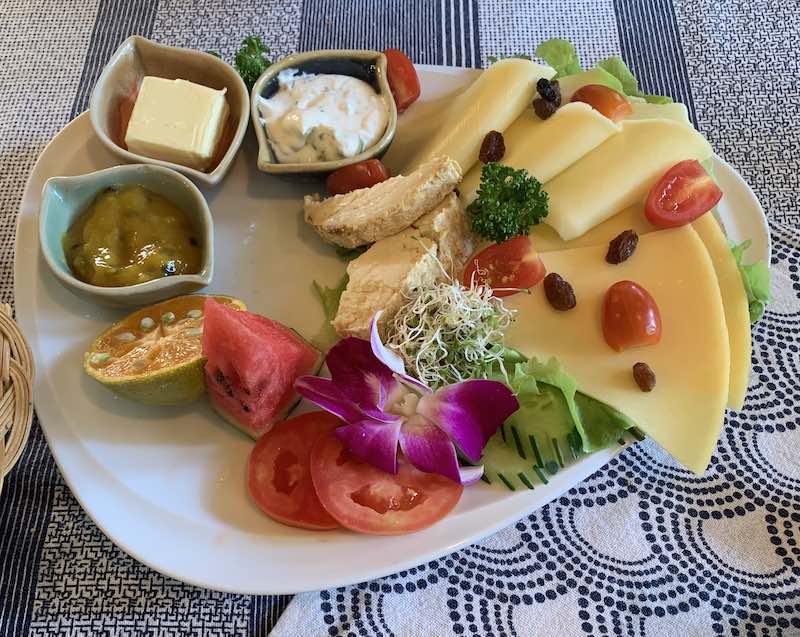 The coffee here is not the best, but it is still quite pricey. I recommend ordering fresh fruit juice instead. As for the atmosphere, the place is located in a quiet alley and features a beautiful outdoor seating area. If you're looking for something different for breakfast, Chiang Mai Breakfast World is the place to go.
Goodsouls Kitchen
If you're looking for an upmarket vegan restaurant that serves a wide selection of Western and Thai dishes, look no further than this one. From all-day breakfast items like tofu scramble and smoothie bowls to dinner dishes like veggie burgers with potato wedges, fresh spring rolls, curry with rice, falafel pita, penne pasta, pancakes with coconut whipped cream, papaya salad, and Asian noodle soup - this place has it all. For dessert, there's the day's selection of cakes and treats on display as well as coffee and lassi drinks.
But don't just take my word for it - the food here is consistently good. I can highly recommend their Avocado & cream cheese Crostini, which is sourdough toast with homemade cashew cheese topped with smashed avocado, freshly cut tomato, garlic, basil, and cashew. But their smoothie bowls are just as delicious.
Unlike other restaurants, this one is perfect for every meal of the day. In the evening, the place transforms into an upmarket dinner spot with people queuing up for a table. No matter what time of the day, this place is a must-visit for any foodie.
Fern Forest Cafe
Fern Forest has been a beloved breakfast spot for locals and visitors alike for many years. Located just around the corner from Goodsoul's Kitchen, you have the option to try your luck if one spot is packed. There's something for everyone at Fern Forest, from classic western-style breakfasts to Thai dishes and Fusion-style creations. In addition, you can enjoy coffee options like a caramel latte, tea, and fresh fruit juices.
The café is known for its beautiful and tranquil décor, as well as its dreamy outdoor seating area where you can relax and enjoy your meal. And, despite its elegant atmosphere, Fern Forest still offers very reasonable prices compared to other places in Old Town. So come check it out and treat yourself to a delicious breakfast!
Final Note
My personal favorite still is Mitte Mitte, closely followed by Sun Rays and Bella Goose. But rest assured that the other options on this list are sure to provide delicious food and a great start to your day. Of course, there are plenty of other options in and around the Old Town of Chiang Mai that I haven't included here. If you know of a great breakfast spot that I should add, please let me know in the comments and I'll be sure to check it out!