Traveling to Thailand can be an unforgettable experience. With its amazing cuisine, countless tourist attractions, and vibrant culture, it's no wonder why Thailand is such a popular destination. But when you're looking for a break from the traditional Thai dishes, it's easy to find comfort food in the form of Burgers and fries, Pizza, Pasta, or even Indian food. With more and more Burger restaurants popping up across Thailand, it's now easier than ever to satisfy your cravings for a tasty burger.
If you're looking for the best Burgers in Thailand, I can help. I've been living in Chiang Mai for over a decade and have had plenty of opportunities to explore the Burger restaurants in the city. I'm now ready to share my secret list of the best Burger restaurants in Chiang Mai with you. From juicy beef patties to succulent chicken burgers, you'll find it all here. So when you're next in Thailand and looking to satisfy your burger cravings, be sure to check out my list of the best Burger restaurants in Chiang Mai.
I'm on a mission to discover the best burgers in Chiang Mai! With so many options available, from budget-friendly to farang-priced, I'm here to share my top picks based on one thing - taste. From my personal experiences, these are the burger places in Chiang Mai that are truly worth trying. Have you been to any other burger places that I should add to my guide? Please let me know in the comments, and I'll make sure to check them out and add them to this list!
Rock Me Burger
Since its opening in 2014, Rock Me Burger has established a loyal customer base. Located in the heart of Chiang Mai, Rock Me Burger is a unique spot that offers a cozy interior and delicious, juicy burgers. You'll get standard burgers, burgers with truffle sauce, smash burgers, burgers with mac & cheese, beetroot buns, black burgers with spicy pad kra pao, and so on. Every burger comes with a huge onion ring and fries, and you can choose your burger to be rare, medium-rare, or well-done. Even the well-done option is still incredibly juicy.
My personal favorite is the "Rockstar Burger" which comes with a perfectly placed mushroom on top and looks just like the pictures – a perfect burger in one of the best burger joints in Chiang Mai. Visit Rock Me Burger to experience this deliciousness for yourself!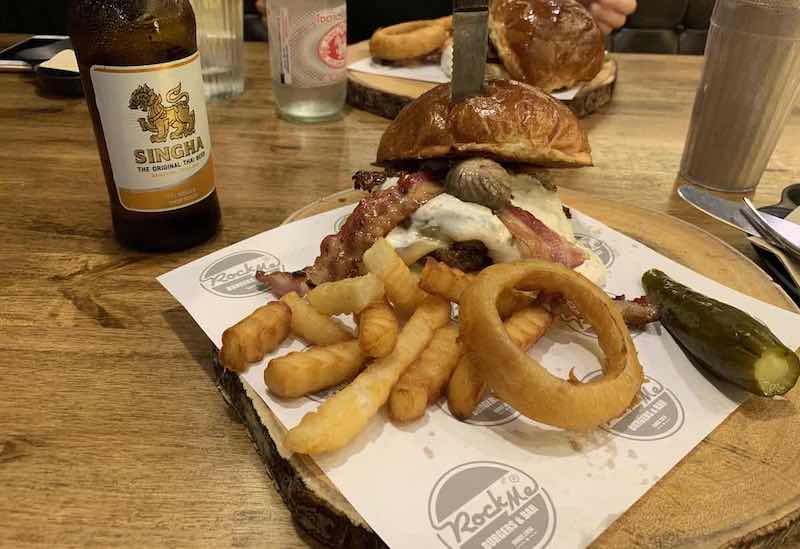 The Duke's
At The Duke's, you'll find a wide variety of delicious American staples, such as spare ribs, steaks, and – of course – burgers. With four locations in Chiang Mai, it's one of the most popular chain restaurants in the city.
The burgers at The Duke's have earned quite a reputation, with many claiming it's the best burger in town. After trying it for myself, I can attest that the burger was still quite good – though I wouldn't rank it among the top three.
What makes The Duke's one of the best restaurants in Chiang Mai is the sheer variety of great western food options it offers. Whether you're traveling in a group or with just one other person, you'll find something to make everyone happy.
Beast Burger
If you're looking for the perfect burger fix in Chiang Mai, you won't want to miss out on Beast Burger. Run by two young Thai siblings and open from 11 am until 10 pm — or until sold out — Beast's burgers are made with premium-quality ingredients and are cooked to perfection. Choose from onion rings or fries for the perfect accompaniment, and don't forget their delicious veggie patty.
Beast Burger is easily one of the top 3 burger places in Chiang Mai along with Rock Me Burger and the famous Wild Hog Saloon — so don't hesitate to make a beeline for this restaurant if your craving for Western fast food strikes.
Arno's Chiang Mai
If you're looking for a taste of French flair in Chiang Mai, Arno's is the place to visit! Not only do they offer a classic carnivore burger menu, but their French-inspired dishes are sure to please even the most discerning palates. Plus, Arno's also operates in Bangkok, so you can enjoy the same delicious food wherever you go.
Some time ago, there were some complaints about Arno's in Chiang Mai not cooking burgers well done when requested. But the restaurant was quick to address the issue and now they will happily cook the burgers however you like! So if you're a fan of medium rare, Arno's is a great choice, but they will prepare it rare or well-done if that's your preference.
Wild Hog Saloon
Treasured by ex-pats in Chiang Mai, the Wild Hog Saloon has been voted the best burger by local foodies for two consecutive years. Dedicating years of research and development, the Wild Hog Saloon has perfected the perfect burger with crispy-on-the-outside and fluffy-on-the-inside chips.
They continue to come up with innovative options like the seasonal peanut butter/bacon burger which is guaranteed to satisfy.
Overall, the Wild Hog Saloon is undoubtedly one of the top 3 places for burgers in Chiang Mai and a must-have for all burger lovers!
Manifreshto
Are you looking for a unique spot to enjoy a juicy, delicious burger in Chiang Mai? Look no further than Manifreshto! Although this restaurant is more well-known for its breakfast and brunch dishes, they also make some of the tastiest burgers in the city.
Their Pulled Pork Burger is to die for and you won't find a better burger anywhere else. Plus, they offer a few other burger options that are just as delicious.
If you're in or around the Nimman area, Manifreshto is the absolute insider tip for the best burgers in Chiang Mai. Stop by today and enjoy a truly mouthwatering burger!
Conclusion
My top 3 places to get the best burgers in Chiang Mai are Rock Me Burger, Beast Burger, and Wild Hog Saloon. Every one of these restaurants offers delicious, juicy burgers that will be sure to satisfy your cravings. Whether you prefer something classic and simple, or something more creative and inventive, you'll find what you're looking for at one of the places mentioned in this list. So take a chance and try one of these amazing spots - you won't be disappointed!