Exploring the city of Chiang Mai, you can hardly walk around without bumping into an Indian restaurant. With so many options, it's hard to tell the good from the great. Even when checking online guides to find the best places to get authentic Indian food, the majority of the recommended places rarely make it into the Top 10, let alone the Top 5.
So why is finding a great Indian restaurant such a challenge? I've personally been to a few places that had good ratings on Google and were recommended in blogs, but they totally missed the mark. One of them was so bad that it's unbelievable they called themselves an Indian restaurant!
The good news is that if you're looking closely, there are some real gems that offer rich, flavorful food for a bargain price. These places may not look very inviting, but the food is worth it. So let's go ahead and check them out!
Grill of Punjab
The Grill of Punjab is my favorite Indian restaurant in the city. It's conveniently located in the middle of the old town and just around the corner from one of the busiest restaurants in CM (Kat's Kitchen). Though the exterior may not look inviting at first, I was pleasantly surprised when I stepped inside. The friendly staff greeted us warmly and assured us that we were in for a treat.
The food was nothing short of sensational. Rich, flavorful, and cooked to perfection, the owner personally prepared each dish to ensure it met his high standards. Though the restaurant can get busy at times, I never waited longer than 15 minutes for my meal, which is a small price to pay for such exquisite cuisine.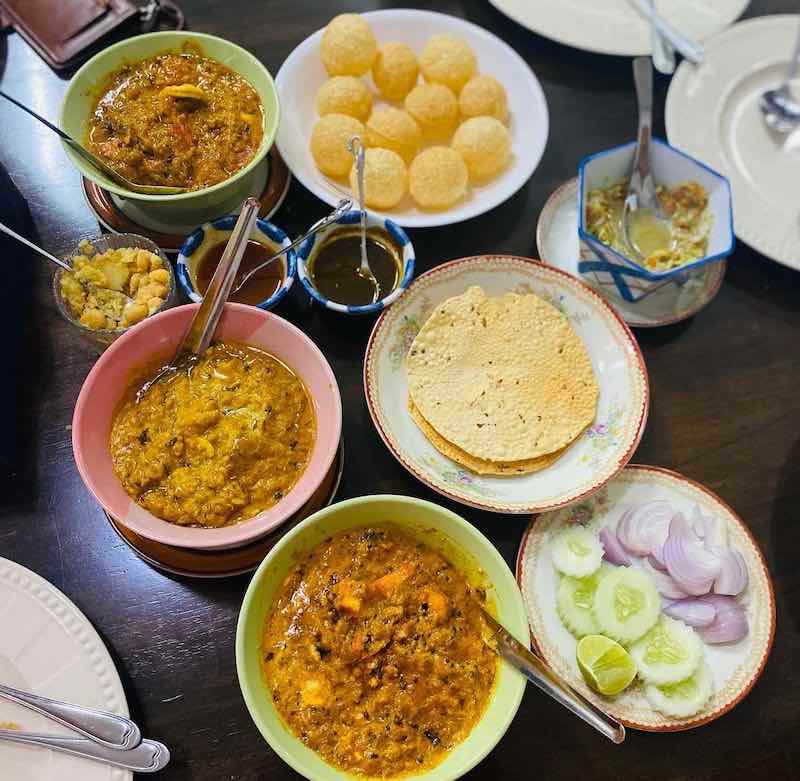 Their butter chicken, mutton Rogan josh, and chicken korma - paired with saffron rice and butter naan - are the perfect accompaniments for a delicious Indian feast. The portions are generous, meaning two mains are enough for three people easily. The price is also very fair, ranging from 140 to 160 Baht for the main course.
Experience a delicious Indian feast with friendly service at The Grill of Punjab - you won't be disappointed.
Operating hours: 10 am – 10 pm
Address: 5 1 Ratchamanka Road Soi 2, Tambon Phra Sing, Mueang Chiang Mai District, Chiang Mai 50200, Thailand
Phone number: +66-98-749-5230
Kanchan Indian Food
If you're looking for an authentic Indian experience - this is it! Ms. Kanchan is an absolute gem; not only is she kind, gentle, and exuding traditional motherly love, but she's also an amazing chef. For 27 years she has been living in Thailand, yet her food has not lost its original Indian flavor and authenticity.
Ms. Kanchan's food is freshly cooked to order, so it's best to pre-order your meal to avoid any delays. Prices are also very fair, so there's no need to worry about any surprises. We had the hot Samosas which were simply heavenly and the fresh parathas served straight from the tawas – delicious!
If you're looking for an insider recommendation for a truly unique and authentic Indian experience, then Ms. Kanchan is the one for you!
Operating hours: 10 am – 8 pm
Address: 75, 5 Muang Samut Rd, Tambon Chang Moi, Mueang Chiang Mai District, Chiang Mai 50300, Thailand
Phone number: +66-85-520-8701
Yummy India
Yummy India is surely the best Indian restaurant in town! Located just southwest of the old town center, it's just amazing. Fresh and very clean, the staff is super friendly and the outside seating gives you the feeling of being in someone's garden. The Tikka Masala is out of this world and the Potato Cutlets were exquisite. Prices are also very reasonable.
I recently enjoyed lunch there and it was totally worth it! The Garlic Bread and Whole Wheat Roti were so delicious and the surprise was the rice dish that came with the packed order. I enjoyed a nice cup of Masala Tea while waiting. What's more, Yummy India has teamed up with a motorcycle lady to provide delivery – a great way to help her earn some cash during these lean CoVid19-impacted times. Friendly and tasty – it's a must-try!
Operating hours: 11 am – 8 pm (closed on Thursdays)
Address: 72 Thipanet Rd, Haiya Sub-district, Mueang Chiang Mai District, Chiang Mai 50100, Thailand
Phone number: +66-99-295-1965
Sarita's Kitchen
If you're looking for delicious and authentic Indian food at an unbeatable price, you've found the right place! Sarita's has everything you could want - from flavorful curries and tasty flatbreads to a variety of Masala Teas and lassis. Plus, you won't believe how friendly and welcoming the atmosphere is!
Everything is cooked with a lot of love and skill, making it feel like a warm home away from home for any Indian traveler and the perfect spot for anyone who wants to experience the best of Indian cuisine. And the best part? Everything is made to order, so while it may take a bit longer to get your food, it's definitely WORTH THE WAIT!
Vegetarian and vegan options are available too, so no matter your dietary needs, you can find something to satisfy your taste buds at Sarita's. With great prices and delicious food, there's no reason not to pay Sarita's a visit - we promise it'll be a friendly and worthwhile experience you won't soon forget!
Operating hours: 9 am – 9 pm (closed on Thursdays)
Address: New Asia Hotel 59/3-4 (Front Ratchawong Rd, Mueang Chiang Mai District, Chiang Mai 50300, Thailand
Phone number: +66-94-710-8691
Taj Mahal Indian Restaurant
I was recommended this little restaurant by a local resident and was told that the chef was from India. I had the pleasure of trying out the Chicken samosas, Cheese Naan bread, Saffron rice, Tandoori chicken, and Butter chicken, and I must say, it was an absolute delight!
The flavors were out of this world and I can still taste them after just a few days. Not only was the food exceptional, but the staff was so friendly and welcoming. The decor wasn't anything fancy but the food was definitely worth the price. I highly recommend this restaurant if you are looking for quality and exceptional service.
And if you're looking for good value, they have a Veg and Non-Veg Tali for under 200 baht and their Garlic Naan is phenomenal. Highly recommended!
Operating hours: 10 am – 11 pm (closed on Thursdays)
Address: Loi Kroh Rd, Tambon Chang Moi, Mueang Chiang Mai District, Chiang Mai 50100, Thailand
Phone number: +66-99-134-7222
More Restaurant Recommendations
Chiang Mai is full of great restaurants to discover. Hopefully, these guides will help you find your next place for dinner: