Chiang Mai is an enchanting city full of captivating culture and mouth-watering cuisine. Whether you're exploring the ancient temples, wandering through the many bustling markets, or just taking it all in, the city will leave you feeling like you've stepped into a Pixar movie. Plus, it's the perfect place to indulge in some of the best Khao Soi in Thailand. Here's a list of some of the top spots to enjoy this traditional dish while in Chiang Mai and fully immerse yourself in its unique atmosphere.
What is Khao Soi?
Khao Soi is a beautifully seasoned coconut milk curry soup flavored with beef or chicken broth. It's served with cooked noodles in the soup as well as fried noodles on top. It is a must-try dish when visiting Chiang Mai as this is the signature dish of the city. The locals even claim that "if you haven't had khao soi, then you haven't arrived in Chiang Mai."
The creamy, fragrant, and slightly spicy coconut curry noodle soup originates from Northern Thailand, Myanmar, and Laos. It's made with either chicken or beef, boiled and fried noodles, and a thick, rich coconut broth. This delectable dish has many variations, from the type of broth to the protein base, the type of noodles used, and other regional variations.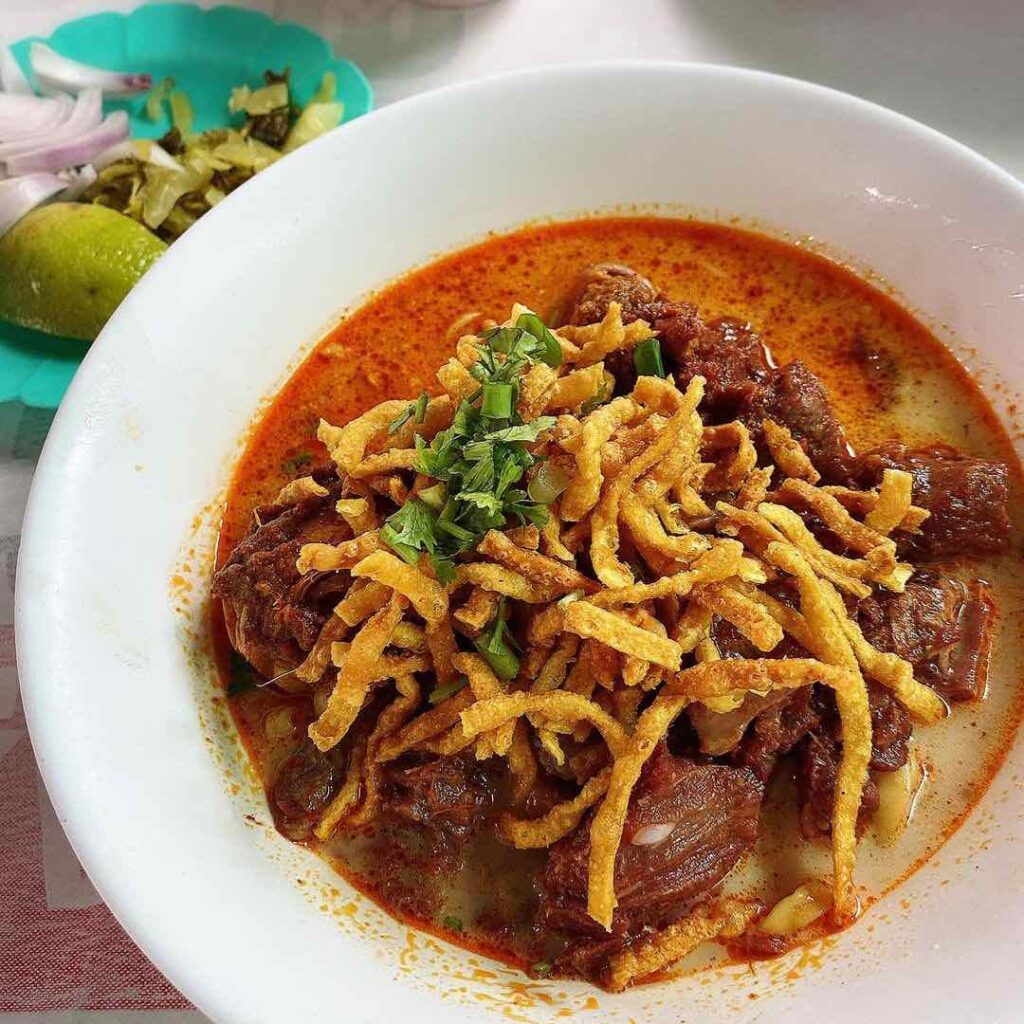 The list of ingredients in this classic soup is long and contains coconut milk, chicken or beef broth, egg noodles, lots of spices like curry ginger, chicken or beef meat, and toppings. The toppings always include fried noodles and most of the time relishes like pickled cabbage, raw red onion, a quarter of a lime, and chili flakes.
In Chiang Mai, Khao Soi is most often made with either chicken or beef - both are delicious, however, I personally prefer the beef version. If you've never had Khao Soi before, you're in for a treat - it's impossible to describe the richness and flavor of this dish.
What makes a great Khao soi?
The best way to identify a great Khao soi is by taking a careful look at the soup. It should have a strong, dark color as it'll take up the color of the meat due to the addition of curry; -it should not be milky. Quality ingredients, the right amount of flavor, and the crispy fried noodles are all indicative of an excellent Khao soi. But since you have to actually taste the dish to notice these elements, the color of the soup is the best initial indicator. So be sure to inspect the soup for the ideal murky darkish color before digging in!
1. Khao Soi Maesai
If you're looking for the absolute best khao soi experience in Chiang Mai, then Khao Soi Mae Sai Restaurant is the place for you. Located in the Mueang district close to Wat Lok Moli, a Buddhist temple that's been around for more than 1000 years, and Wat Suan Dok, a picturesque monastery with a distinctive golden dome, this restaurant serves up authentic, delicious khao soi.
The beef khao soi here is something special - the pieces are huge and melt-in-your-mouth tender, and the flavor combination of fat, spices, and coconut milk is simply unbeatable. And for a surprisingly low price of 40-50B, you get a generous portion of this mouth-watering dish.
Unlike some of the other restaurants that prepare khao soi, Mae Sai adds coconut milk into the curry broth while it's cooking, making the texture creamier and the flavors more subtle. So, if you're looking to be amazed by the perfect khao soi, head to Mae Sai and you won't be disappointed.
Operating Hours: 8:00 am – 4:00 pm (Closed on Sundays)
Address: 29/1 Ratchaphuek Alley, Tambon Chang Phueak, Mueang Chiang Mai District, Chiang Mai 50300, Thailand
Phone Number: +(66) 53-213-284
2. Khao Soi Lung Prakit Kad Kom
The first thing you might see when you step into Loong Prakit's small restaurant is a smiling, older man standing behind several huge steaming cauldrons of noodles. This is the owner and originator of an amazing recipe of khao soi and he is likely to be found smiling confidently yet humbly, welcoming customers in.
The size of the bowls of noodles that soon arrive is just mind-blowing. On your first bite, you'll realize this is the kind of place where you can become a foodie, even after just one meal. Imagine thick noodles, bathing in an incredibly deep and rich red curry broth, and a gorgeously meaty smell that will make you hungry in a split-second's time.
If you're still not convinced, try some of their fried chili paste - their version is amazingly fragrant and flavorful. It's no wonder why this place has been featured in many publications and has become so famous. Come and experience it for yourself!
Operating Hours: 9:30 am – 4:30 pm
Address: 53 Suriyawong 5 Rd, Tambon Hai Ya, Mueang Chiang Mai District, Chiang Mai 50100, Thailand
Phone Number: +(66) 83-209-9441
3. Khao Soi Islam
I've been to this restaurant a few times before, and I absolutely love it. It's pretty famous and large, and when you step inside, you'll be greeted by the delicious smell of curry broth that fills the air. You can watch your meal being made from scratch with freshly prepared ingredients, like big pans and pots full of broth, noodles, and coconut milk, all mixed together in your plate to create a unique and non-homogeneous dish that will hit your taste buds differently with each bite.
I thought it would only be fair to start my journey to find the perfect Khao Soi with this restaurant since I know how great it is. It's a great place to start the day with a bowl of Khao Soi, but this is also a great restaurant to start any other day of your Chiang Mai adventure.
If you're looking for a flavorful, yet healthy khao soi dish, then you'll love the curry broth at this restaurant. It's fragrant and mild, with a unique flavor that's not too spicy. To make it even better, they use coconut milk instead of coconut cream, which makes it a healthier option. So if you're looking for a delicious and nutritious khao soi, this is definitely the place for you.
Operating Hours: 7:30 am – 5:00 pm (Open on Sundays)
Address: Charoen Prathet 1 Alley, Tambon Chang Moi, Mueang Chiang Mai District, Chiang Mai 50000, Thailand
Phone Number: +(66) 82-392-0142
4. Khao Soi Khun Yai
Khao Soi Khun Yai Restaurant is one of the most popular restaurants online and it's no wonder why! Located in a relaxed and friendly atmosphere, this restaurant is the perfect spot to enjoy a delicious and near-perfect bowl of khao soi.
The chef is known for their flavor balance, and the restaurant's small size ensures that you get the freshest ingredients and the most flavourful experience. Khun Yai is an expert at blending the perfect combination of flavors and textures in her dishes. Her years of experience are evident with every bite of her noodles; she knows exactly how much crispy noodles and coconut milk (or sugar) to add, so the dish is never too heavy or too sweet. With Khun Yai's noodles, you are guaranteed a delicious, perfectly balanced meal every time.
On top of that, you don't have to worry about the strong aroma of the various Thai dishes being cooked on the spot as the restaurant is shielded from the hot sun with its shed-like walls. Local Thai websites have praised Khao Soi Khun Yai Restaurant for its flavourful khao soi and it's no wonder why it's a local favorite! Visit Khao Soi Khun Yai Restaurant today to experience one of the best khao soi meals around.
Operating Hours: 10:00 am – 2:00 pm (Closed on Sundays)
Address: Sri Poom 8 Alley, Tambon Si Phum, Mueang Chiang Mai District, Chiang Mai 50200, Thailand
5. Khao Soi Mae Manee
Khao Soi Mae Manee Restaurant is located just slightly outside of town, on the way to the town of Mae Rim, Chiang Mai. Its orientation at the end of a long quiet street adds to the relaxed atmosphere, making it the perfect spot for a calm, peaceful meal.
The trip there might be a bit longer, but it's worth it for the incredible dishes made with care and attention to detail. Their khao soi is particularly mouthwatering, with a rich and flavorful curry broth, hand-made noodles cooked to perfection, and thick, tender chunks of meat (try the beef khao soi neua). In fact, if we hadn't already enjoyed three other restaurant's khao soi this day, I would have absolutely no reservations at all about having four or even all five bowls to fill my daily quota of khao soi, all in a row without leaving Mae Manee's restaurant.
At Khao Soi Mae Manee, they do all the big things right, with a friendly atmosphere that's sure to make you feel right at home. So why not take a trip out and enjoy a delicious meal at this hidden gem? You won't regret it!
Operating Hours: 09:00 am – 3:30 pm
Address: 18 Chotana Rd, Chang Phueak, Mueang Chiang Mai District, Chiang Mai 50300, Thailand Phone Number: +(66) 81-961-2235

6. Khao Soi Wua Lai
Discovering Khao Soi Wulai is like uncovering a hidden gem! Nestled near Wat Lok Molee temple, this tiny restaurant isn't easy to find - but locals love it! And with a 30 baht bowl, it won't break the bank either.
Taste the divinely spicy broth laced with thick coconut milk, Burmese-style pickled cabbage, and roasted chili paste that cuts through the richness. It's well worth the effort to find it - and it could be your new favorite spot for the best khao soi in Chiang Mai! So come on, make the trip - it's friendly here!
Operating Hours: 09:00 am – 3:00 pm (closed on Saturdays)
Address: 1 50100 137/1 Wua Lai Rd, Mueang Chiang Mai District, Chiang Mai 50100, Thailand
Phone Number: +(66) 95-538-4362
More Recommendations
Chiang Mai is full of tasty restaurants, night markets, and cafés. Naturally, you can find all kinds of food no matter what you're looking for. Here are just some guides to help you find the best food places in the city.