Traveling to Thailand can be an unforgettable experience, with its mesmerizing cuisine, countless tourist attractions, and vibrant culture. But if you're looking for a break from traditional Thai dishes, there's no need to worry. You can still find comfort food in the form of Burgers and fries, Pizza, Pasta, or even Indian food. However, finding authentic Italian Pizza can be quite a challenge, especially in the city of Chiang Mai. 
Never fear though! I'm here to help. With over a decade of living in Chiang Mai, I've had the opportunity to explore countless pizza places and I'm now ready to share my secret list of the best Pizza restaurants in Chiang Mai with you. So if you're on the hunt for the best Pizza places in the city, this is the perfect chance to get a taste of Italy without leaving Thailand.
By Hand Pizza Cafe
Experience the best of Pizzas at By Hand Pizza Cafe! Their woodfired oven and authentic Italian pizza dough are sure to make your pizza extraordinary. With imported ingredients like Mozzarella cheese, the flavor is truly unbeatable.
Plus, enjoy a selection of delicious beer, house wine, coffee, lemonade, and tea. The warm atmosphere makes for a comfortable and enjoyable experience. Plus, the prices are super fair and the staff is always willing to go above and beyond with great service, even during peak hours. I've seen them create additional tables in a matter of minutes!
Unfortunately, this place is so great that it's often busy. So, if you're visiting during high season, be sure to plan to ensure you don't have to wait too long to be seated.
Pizza My Heart @ Nimman
Pizza My Heart is often referred to as the best pizza place in town, and while the pizza is good and the dough is well-made, I'm still not fully convinced. The problem is that they have two different ovens and depending on which they use, the quality can differ drastically.
Their wood-fired oven produces perfectly cooked pizza with crispy dough, but the electric oven is not up to the same standard as other places on this list. If you're close by and want to check it out, you can easily tell which oven is in use—if it's not the wood-fired one, it's better to look for somewhere else.
Peppina Verde
Since June 2022, Peppina Verde has been serving up their delicious pizza in Chiang Mai, and it's quickly become one of the most popular go-to spots for pizza. I was lucky enough to experience it firsthand and let me tell you, the quality of their pizza was truly remarkable.
The dough was light and fluffy, the sauce heavenly, and the toppings of supreme quality. This wasn't just good pizza for Chiang Mai, it could compete with any top-notch pizza place in the world. One bite and I was in pizza heaven. I can't wait to go back and relive that amazing experience. If you're looking for the best pizza in Chiang Mai, Peppina Verde is the place to go.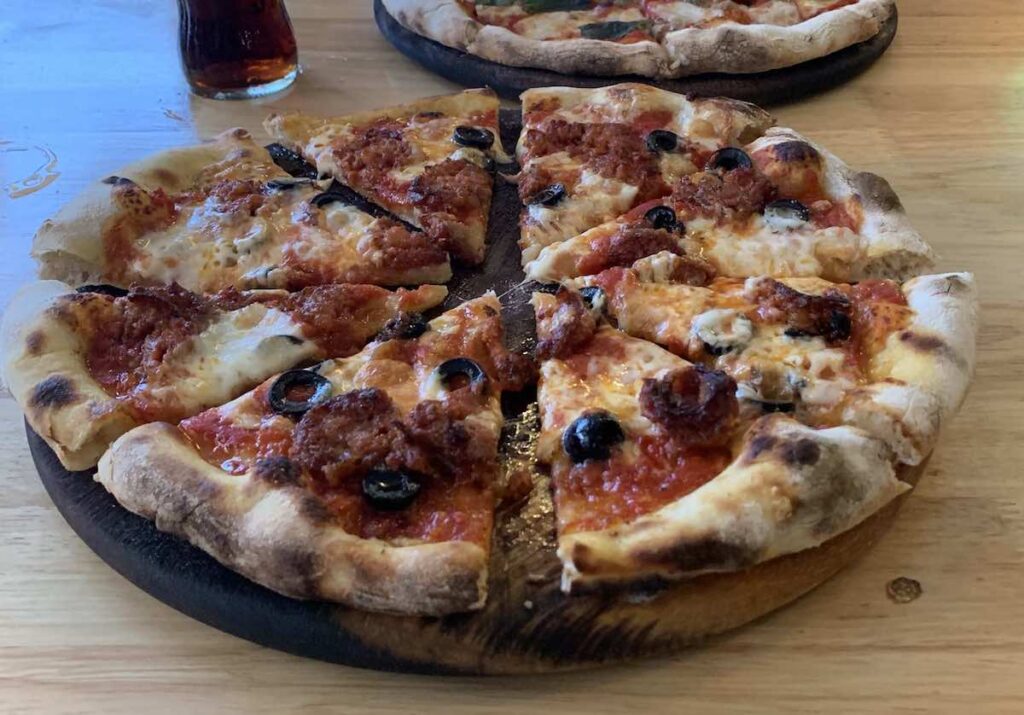 Why Not
This Italian place may get mixed reviews on Google and TripAdvisor, but there's one thing everyone can agree on: their pizza is one of the best in town. At Why Not, I haven't had the chance to try anything else, but their pizza is undeniably delicious.
The dough is perfectly cooked and the right balance of sauce, cheese, and toppings make it a real delight. It's a bit pricey for the size of the pizza, but it's worth it for the handmade deliciousness. The only downside I've noticed is that the dough sometimes gets a bit too thin for my liking.
Adirak
If you're looking for an authentic Italian pizza experience in Chiang Mai, then this is the place for you. Although it's located outside the city center, it still offers some of the best pizzas in town.
The price couldn't be better either - you can get two delicious pizzas for just under 500 Baht! The flavors change regularly, so there's always something new to try.
On my last visit, they had an Italian sausage pizza and a pesto pizza that both tasted amazing. It's no wonder why this place is so popular among the locals and ex-pats - it's easily one of the best pizza places in the city.
Duke's (American NYC-style)
If you're an American looking for a classic New York-style pizza, Duke's is the place to go. With multiple outlets in the city (my favorite is next to the Ping River), they are known for serving some of the best American comfort food in town.
Not only do they make delicious NYC-style pizza, but also mouth-watering burgers, ribs, steaks, and more. Plus, if you're a fan of Chicago-style pizza, they've got you covered too. So, why not head to Duke's for a taste of the best American pizza around?
More recommendations
If you're looking for more recommendations in Chiang Mai, check out our other guides like: