Before I start, remember: In Ireland everything takes you longer than you might think.
Before I get to the places I liked the most here's a quick but important information: expect that driving around takes you much longer than you think and parents are always right. My Dad –who used to spent some years in Ireland- told me, that I have to calculate a good amount of time for driving from A to B.
But I'm the typical child and thought: Oh get away, I've been to a lot of countries now, I guess I know what to expect. So I have a rough idea how long it will take me…". And what should I say? Fiddlesticks!
I've never been anywhere comparable. In Ireland, there are only a few highways and if you want to see the country side you shouldn't take them. And every single other road consists more or less of road turns.
Additionally, they are so small and grown over by bushes and trees with stonewalls underneath that you really have to be afraid for your side mirrors. But If you arrange enough time (unlike me), than it's actually great fun to cruise through the green maze.
Starting from Galway, let's look at my first highlight on the Western coast of Ireland.
Cliffs of Moher
From Galway it is 80km to the Cliffs of Moher and it took me something from 2 to 2.5 hours to get there. The road you should take to the cliffs in Clare County is the "Wild Atlantic Way" (with 2.600km, this is one of the longest coastal roads in the world) from where you have spectacular views across the rocky coast to the ocean.
As soon as we arrived at the Cliffs of Moher we were lead to a parking lot which costs 6€ per person -not per car because. That may sound weird as it's for parking your car, but it also acts as entry fee at the same time, though only visitors who come by car have to pay that fee.
Pro Tip: Walkers and cyclists are free.
From the parking lot to the Cliffs, it is only a five minute walk. On the way there you pass by a big visitor center. Inside is a museum that I didn't visit since you have to buy an extra ticket.
When you walk from the visitor center directly to the coastline you are close to the O'Briens Tower where the cliffs are the highest and reach impressive 700ft.
Because the Cliffs of Moher are one of the most popular sights in Ireland they can be very crowded so it was good that I got there relatively early – that means around 11:30 AM; -Yep, that's early for me. But this was just early enough as a little later all the tour coaches arrived.
You can walk along the cliffs a few 100 meter but eventually you will reach a blockade at both sides. The barriers can be crossed and you can go for a walk there but they tell you that from now on you walk around on your own risk.
If you are not suffer from a strong vertigo you're should be fine and you will get a lot of beautiful pictures.
On my way back from the Cliffs of Moher I somehow managed to get lost – like so often I forgot to check where to go because I was so captivated by the things around me. At first I was slightly annoyed but then the detour turned out to be great luck and lead me through the better part of Clare County.
This also lead me across "The Burren". The Burren is 250qkm large and consists of limestone pavements with crisscrossing cracks – also known as grikes. The roads are winding through stone and meadows and sometimes I wasn't so sure whether I'm still on the road or besides.
Everywhere was furrowed limestone and here and there you get a glimpse of the sea. It was just amazing, so you should definitely include the The Burren in your travel itinerary.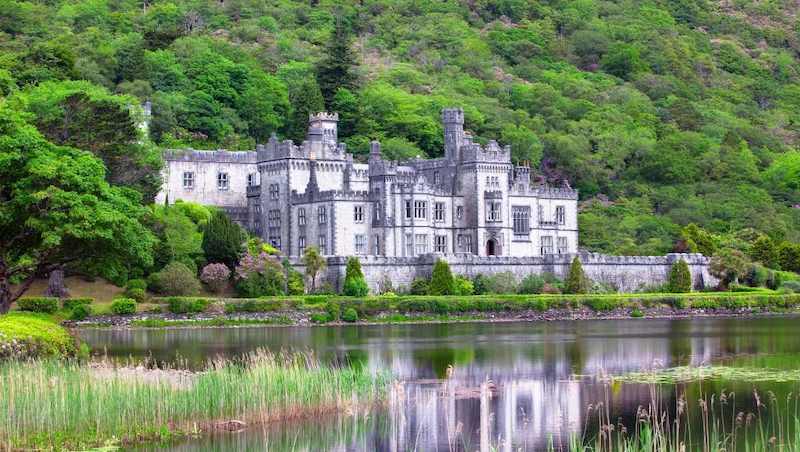 Connemara
Also from Galway I started for a day-trip to Connemara. Here, the landscape is divided in two parts: the southern part is flat and consists mainly of heather and moorland with countless lakes. The northern part with the Twelve Bens (up to 700m high hill) is more mountainous.
Naturally I'm used to completely other heights, but in a country where the highest mountain is 1041m 700m is really massive.
Two sights that we really loved a lot in Connemara are Ballynahinch Castle and Kylemore Abbey. Actually, Kylemore Abbey was an old monastery that was converted in a girl's school. But since 2010 the school is closed because there were not enough students.
Nowadays the Abbey and the lovely gardens around it are open only for visitors. However, a ticket back then was 13€ -like I already mentioned entry fees in Ireland are quite high. But you can go for a walk there with a nice view of the Abbey without buying a ticket.
Ballynahinch Castle is a former castle converted into a hotel with a large parkway surrounding it. The park is wonderful and a walk through it free. Ballynahinch Castle is only a few miles away from Clifden, Connemara's capital so to say.
Clifden is a really cute town and just right for a lunch break, but if you don't make it there, never mind. The landscape surrounding it is so beautiful that it is best to spend your time there!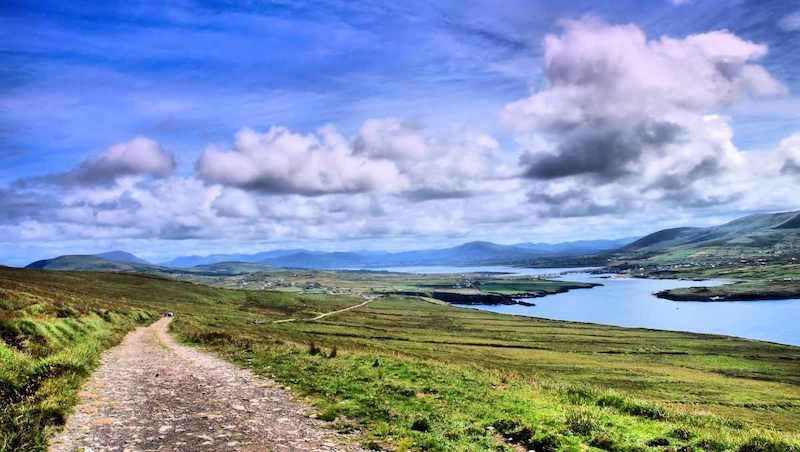 Ring of Kerry
The Ring of Kerry is a 180km long coastal road (N71) circling the Ivaragh Peninsula in the south-west of Ireland. About 120km of the Ring of Kerry are running along the coast. I started out my tour from Killarney, what –together with Kenmare- are supposedly the most beautiful cities along the Ring of Kerry. But this road is not about cities, it is about nature and cultural sites.
What I lovely about the road is the views from the high cliffs down on the ocean with the many small islands and rocky in the waters. Unfortunately, at some places it was really foggy and we couldn't see very far but even with this limited sight the coast, the mountains, the beaches and the sea was sooo beautiful.
Characteristic for Ireland, there are sheep everywhere. Roaming around freely and you have to take care while driving because they might decide to cross the street just when you drive by.
Busses are only allowed to travel the Ring of Kerry counterclockwise because the road is so narrow that it simply is impossible for two busses to pass each other. With a car you are free to drive in whatever direction fits you.
However, it is recommended to drive clockwise because that way you're not forced to stay behind the busses. Because we didn't know this in advance we drove in the "wrong" direction but since we stopped everywhere for picture-taking we were fine with the busses.
Gap of Dunloe
The Gap of Dunloe more or less is a part of the Ring of Kerry, at least it branches off form the N71 near Killarney. But you can also drive through the gap from the other side, than you're entering the Gap not directly at Dunloe but at the Molls – if you're driving the Ring of Kerry counterclockwise it is pretty much at "the end" of the Ring.
From the entry of Molls Gap a lot of adventurous road turns and winding ways leading down into the valley where the Molls Gap finally merges into the Gap of Dunloe. It took forever but it really was such a great fun. These 22km took me easily one and a half hours but it felt much less.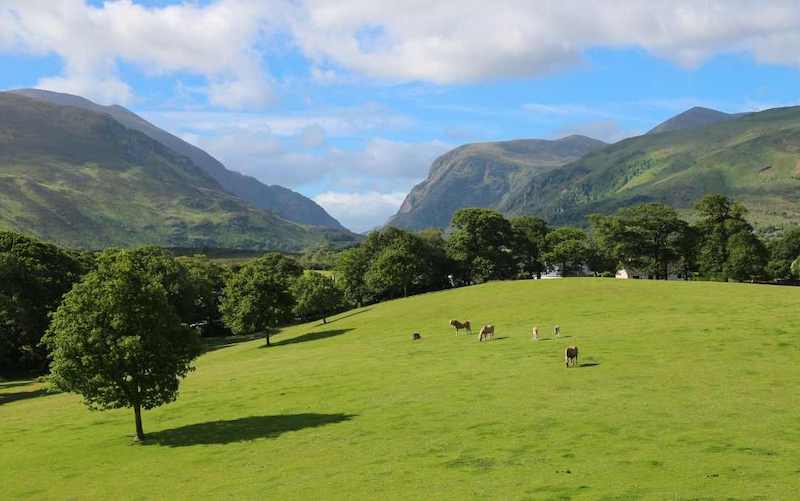 And thank god I haven't had oncoming traffic, I seriously have no idea how I would have managed that… But that for me is one of the best things in Ireland, back in the US people would go crazy with roads like this, here it is just normal.
As soon as we entered the Gap of Dunloe the valley gets a bit broader and there is less wood than in the other part of the gap. And there's more going on, there's even a hotel and a hostel where cyclists and hikers can stay overnight.
Though for me cycling would be out of question because the roads are sooo steep that I would have to push my bike anyway. I guess you need to be in much better shape to do this than I am…
And if you prefer "public transportation": there are so called Jaunting cars, wagons that are pulled by a horse. Each Jaunting car has space for up to four persons. That way you can relax and enjoy the landscape in a little more traditional way than by your rental car. Overtaking these carriages isn't always possible, so don't do the Gap of Dunloe when you're in a hurry.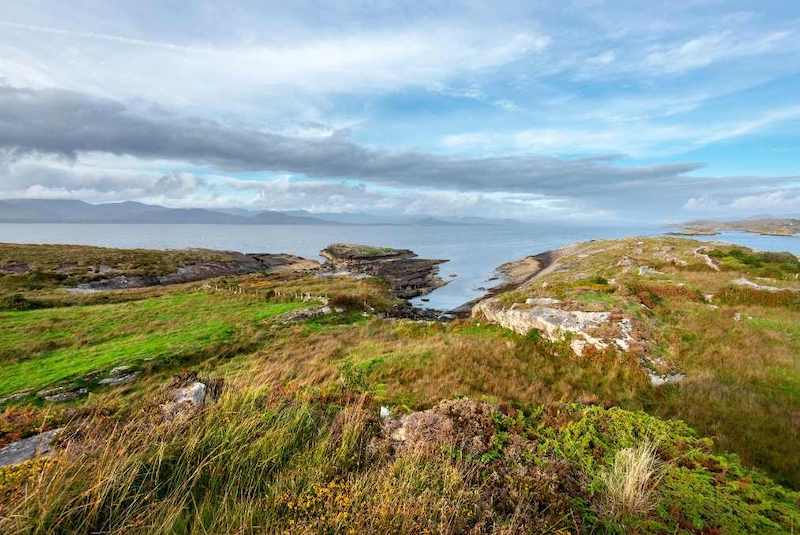 Ring of Beara
At the end of our roundtrip I visited a friend of my dad's. She originally is from the southern part of Germany and immigrated to Ireland many years ago together with her husband.
Once she had a bed and breakfast but in the meantime she is somewhat around 80 years old and officially retired. So rooms in her house –directly at the Ring of Beara- are only available for friends and family.
The way to get to her alone was fantastic. Ring of Beara isn't as touristic as the Ring of Kerry – at least not yet- and the roads are even more narrow (comparable to the Gap of Dunloe).
I took a little detour and crossed the Healy Pass (R574 from Adrigole to Lauragh). The road is winding around hills, rocks and passes Glanmore Lake… it is really absolutely picture perfect. And that oncoming traffic would be a problem here as well goes without mentioning… And here we had the chance to see that it is somehow manageable but it is a great challenge and a lot of driving back and forth.
Because the Beara Peninsula is a bit hilly so you always have a nice view and if I would have to make a decision the Ring of Beara and the Gap of Dunloe are the two regions that matched the Ireland-picture I had in my mind the best.
And I had a real premier at the Ring of Beara: for the first time in our lives I went fishing - and not in a lake but in the Atlantic… Unfortunately I didn't make a single catch. It seems I passed the beginner's luck directly to my father's friend.
At least that brought us enough mackerels for dinner. And honestly, I don't know how I would have reacted if there was a fidgeting mackerel on my pole. However, I really enjoyed eating them. And if you're lucky you're not only catching small fish but can also see wales in the bay.
After my adventurous time at the Beara Peninsula I went back to Dublin, straight to the Airport with a detour via Cork and Kilkenny. If you're curious about what to see in the capital of Ireland, check out my guide to Dublin.