Koh Tao is situated in the Gulf of Thailand a little north from Koh Phangan and Koh Samui. It is the smallest of the three islands and especially famous with diving beginners. There's no place on earth were more driver's licenses are being made than there.
And also there are a couple of lovely spots for snorkeling around the island. And I had the most relaxing time on Koh Tao during our trip through Thailand and one of the best accommodations as well - Samatha B&B.
Samatha Bed & Breakfast
Actually Samatha Bed & Breakfast wasn't my first choice, I thought I might book ourselves a room in a more luxurious looking hotel but somehow I ended up having a double room at Samatha B&B… Lucky me 😉
At our arrival I was a little early and couldn't go directly into our room so I decided to have breakfast in the restaurant area. And as I could watch how my iced latte was being made I immediately was in coffee-heaven.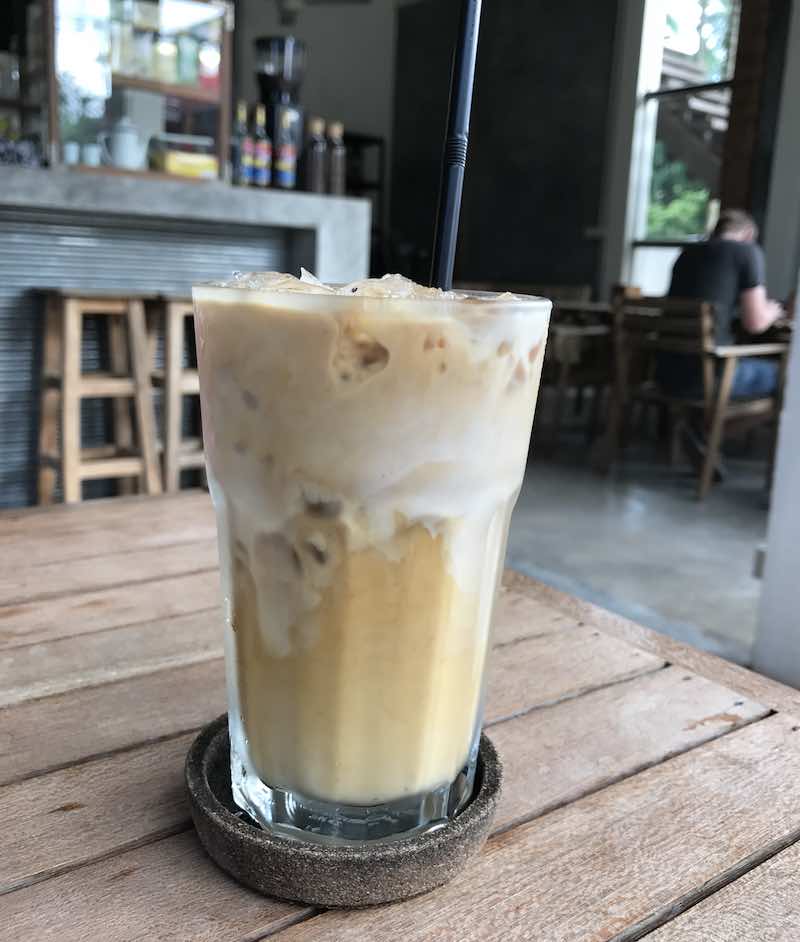 Everything was handmade: the beans were hand ground in a coffee mill, the coffee brewed and the milk foamed by hand. Obviously that was the best coffee on the whole island, what many other visitors already found out as well.
The breakfast
Like you might guess from the name Samatha Bed & Breakfast is a guesthouse were all room-bookings include a breakfast. So I happily started every day with a handmade and super-delicious iced coffee.
And not only was the coffee amazing, also the banana pancakes were yummy. Of course you can have cereals, English breakfast and other stuff but I just loved the banana pancakes so much that I didn't even try anything else.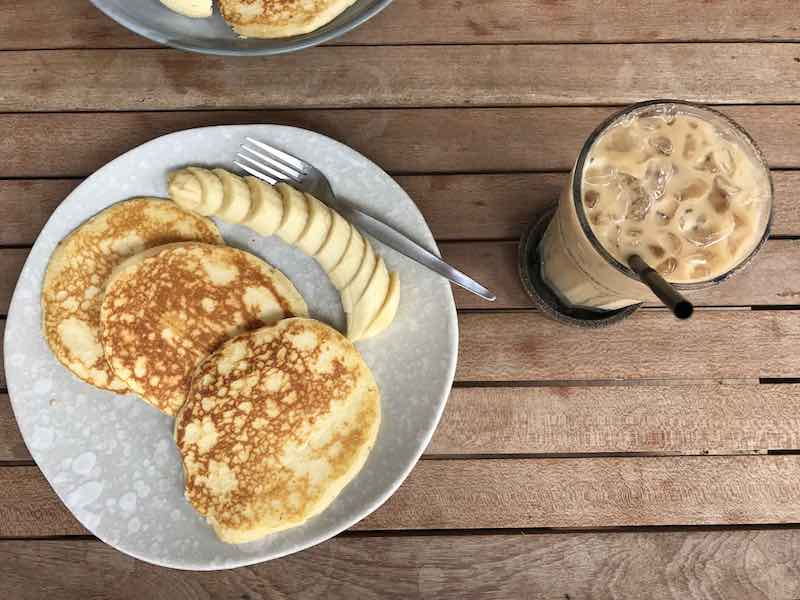 I already mentioned that I had the very best coffee at Samatha and of course other tourists found that out as well. So the restaurant was crowded every day at breakfast time – but no worries, if you stay there you sure will get a table 🙂
But what I actually wanted to say was: there were only 5 rooms at Samatha B&B when I was there (now there are more) and often it is fully booked. So if you can't get a room there, make sure to have a lovely breakfast in their restaurant.
Bricks meet jungle
The interior of the B&B is very modern and clean. There are floors of polished concrete and brick walls. And the guest rooms are also designed like that, which might not be to everyone's liking – some of us maybe need a little more plush – but I liked this minimalistic style. Some may complain about the missing wardrobes and but I didn't miss them.
Behind the hotel was no other building so when we stepped out of the room it felt like being in the middle of the jungle which was quite cool.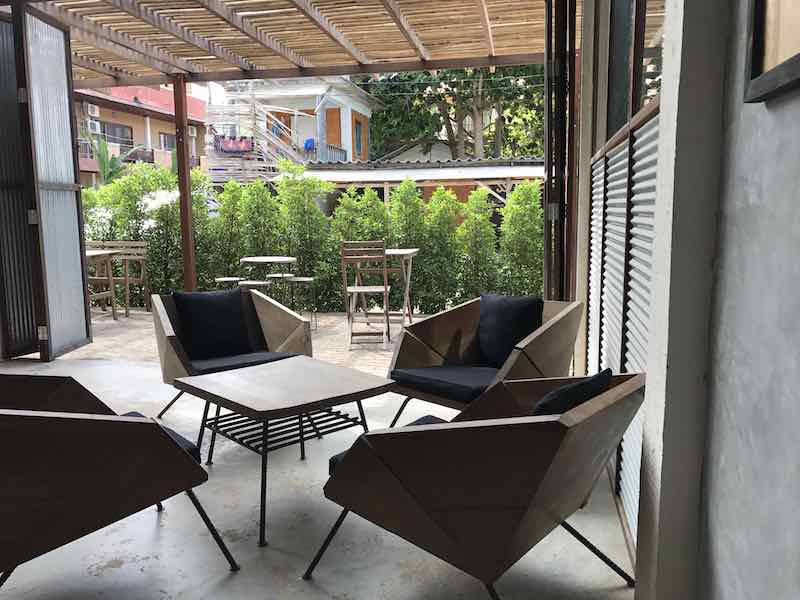 4 of the 5 rooms at Samatha Bed & Breakfast are on the first floor about the entrance and restaurant area. Each of these rooms has a balcony from which you can see the ocean though the guest house is in second row.
The location
Samatha B&B is located at Sairee Beach, the largest and most famous beach of Koh Tao. And there is always something going on. As soon as it gets dark everyone gathers in the bars and restaurants at the beach and so did we.
I had dinner in one of the restaurants at the beach and then went on to one of the beach bars were you can watch cool fire shows each and every night. And from here it is only a two minutes' walk to your bed at Samatha B&B.
So you're just close enough to the beach and all the entertainment and also far enough from the hustle and bustle to have a calm and quiet night. The only thing that interrupted my sleep was a crazy rooster living with the neighbors.
Changes through the years
As I already pointed out, when I first booked a room at Samatha they only had 5 rooms. Over time, they added more rooms and also changed owners and management.
After my initial visit, I stayed there three more times, and every time it was a bit different. But what didn't change is the prime location, lovely design, and beautiful breakfast area.
The breakfast offers changed though as did the drink selection and preparation methods, but overall it's still a great place to stay on Koh Tao.
Or to sum it up, I didn't find a better place yet.