The city state Singapore is very popular with tourists for short stop over when flying from Europe to Oceania or back. So an average stay in Singapore only lasts about three to four days. –These short stop-overs are not so surprising since Singapore is somewhere in the top 10 of the states with the highest costs of living.
Luckily Singapore not exactly huge, so you can see quite a lot in these few days. On my first visit I also spend 3 nights in Singapore on my way to Australia. And I decided to go full tourist-mode. So, here's my guide to spend three amazing fun-filled days in Singapore.
1. Marina Bay
You should definitely pay a visit to the Merlion, a 30ft. high, shining white statue in Merlion Park and Singapore`s most famous landmark. It is situated where the Singapore River flows into Marina Bay. The sculpture is one half fish and the other half lion what stands for the beginning of the city as a small fishing village.
And also for Singapore's ancient name "Singapura" which means lion city in Malayan. Meanwhile there are eight more from the government approved Merlions in Singapore. 
Along Singapore River at the so called Boat Quay there are many small restaurants, bars and night clubs and the whole area is beautifully illuminated. And it's really nice just walking around there enjoying the atmosphere – especially since partying in the clubs down there is very, very expensive.
For a few dollar you can also take a ride along the river on one of the "Bum boats" redesigned as watertaxis and sightseeing boats.
When you cross the river, walk along the promenade and over the Helix Bridge you get to Singapore's most famous hotel: Marina Bay Sands and to the "Gardens by the Bay". These gardens are really impressive, even more so at night when everything is illuminated. There are lakes, beautiful flowers and massive "Supertrees" – 16 story high constructions in shape of something similar to trees between which you can walk around on bridges and enjoy the view over the gardens and the Marina.
If you can't get enough form of viewing Singapore from above you can go on the Singapore Flyer – the world's second largest Ferris wheel. Alternatively you can also take the elevator up to level 57 in Marina Bay Sands. On the 650ft. high rooftop is the "SkyPark", an observation deck with an infinity pool that definitely looks extremely cool and relaxing. However, I didn't go up there because I didn't bring appropriate clothes with me and the ticket alone is 20$ per person. -And if you haven't booked a room in Marina Bay Sands –what I obviously haven't- you're not even allowed to swim in the pool.
2. Colorful Chinatown
Half a mile from Marina Bay in the direction of Pearls Hill City Park you're entering Chinatown. Though, as some say, there might be bigger or more authentic Chinatowns around the globe I thought the Singaporean Chinatown with its small streets, many colorful temples and all the red lampions is really lovely and absolutely worth a visit.
This part of the city is really a big contrast to all the new and modern buildings around Marina Bay. Naturally it is touristic there, but anyway it's a lot of fun spending a couple of hours in this chaotic hullabaloo. And with that your first day in Singapore is probably almost at an end and you can look forward to a tasty dinner.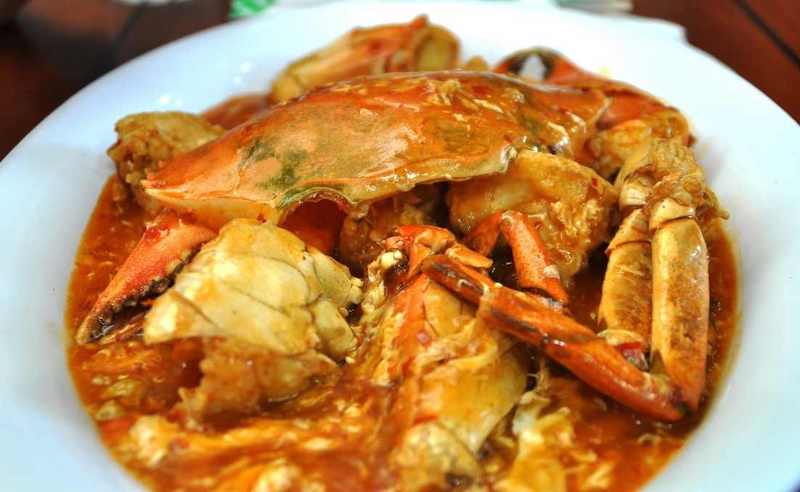 3. Eat Singapore Chilli Crab and Satay
There are a whole lot of restaurants in Singapore and the food is mega diverse. There are Chinese restaurants, Malayan, Indian and European and so on. Everything your heart desires. In the restaurants at the Boat Quay are more on the pricey side but are you have a really nice view. And if you don't want to spend that much on your dinner you should stay in Chinatown for dinner or go to one of the Hawker Centers.
A Hawker Center is the Singaporean version of a street food market: tables with numbers are placed between different kinds of street food stands and you first choose your table and then walk around ordering the food that you want and telling the vendors the number of your table and they bring you a bunch of delicious food 🙂 There are a couple of such Hawker Centers in Singapore, a very famous and big one is for example the Hawker Lau Pa Sat that's situated between Chinatown and Marina Bay.
What you definitely should try when in Singapore is Chilli Crab, the national dish of the state. It's basically a mud crab that's stir fried in a sauce of tomato and chilli and it is delicious 🙂 You can get it in almost every restaurant and therefore in every price class. And what is also one of our favorite dishes in Singapore is chicken satay: chicken skewers with peanut sauce. A perfect snack and I never had satay as good as the ones in Singapore!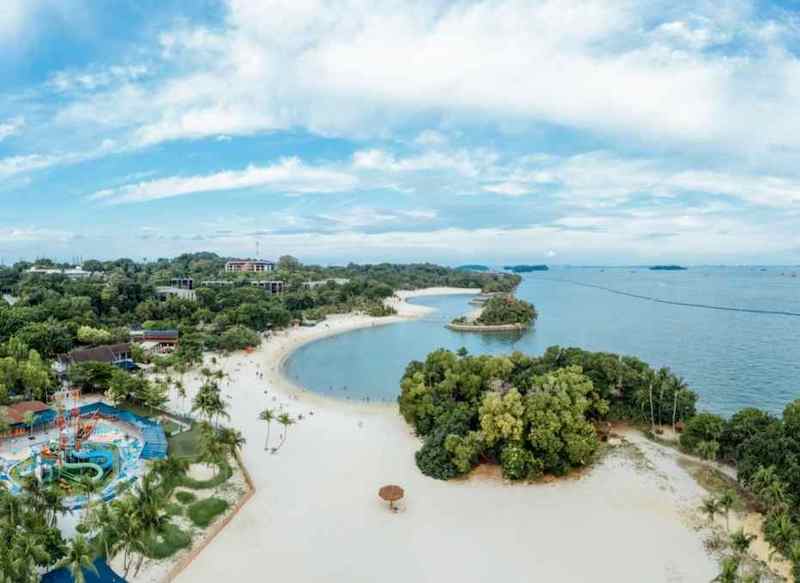 4. A day on Sentosa Island
You should reserve a good part of a day for a stay on Sentosa, Singapore's pleasure island. Sentosa lies just a quarter of a mile away from the main island of Singapore. You can reach Sentosa via Monorail, bus, via cable car or by foot. A return ticket for Sentosa Express is 7$ per person and with the cable car it's something around 25$. The cable car looks cool but I decided for the express train. 25 bucks is simply too expensive… 😉
On Sentosa there are many attractions, restaurants and beautiful beaches where you can relax. Even a Madame Toussauds and a Universal Studios Theme Park are there. But you're still in Singapore so expect to spend a lot of money. There is a "funpass" available for up to 20 attractions and with that you can at least save a little bit if you want for example climb up the 120ft. to the head of the huge Merlion or visit the aquarium or if you feel like cruising with a Segway across the island. The smallest pass is 35$ and allows you to choose three attractions out of 20, if you spend 55$ you can try them all.
There's still more to do on Sentosa except from what is on the funpass and you won't manage to do it all in one day. But since Sentosa has Singapore's most beautiful beaches and you can just hang out there, relax and enjoy the sun –and guess what? That's for free.
Tip: Try a lime juice in one of the many beach bars. It is sooo tasty and I'm always trying to find one that's just as good as the juice I had there… so far without success.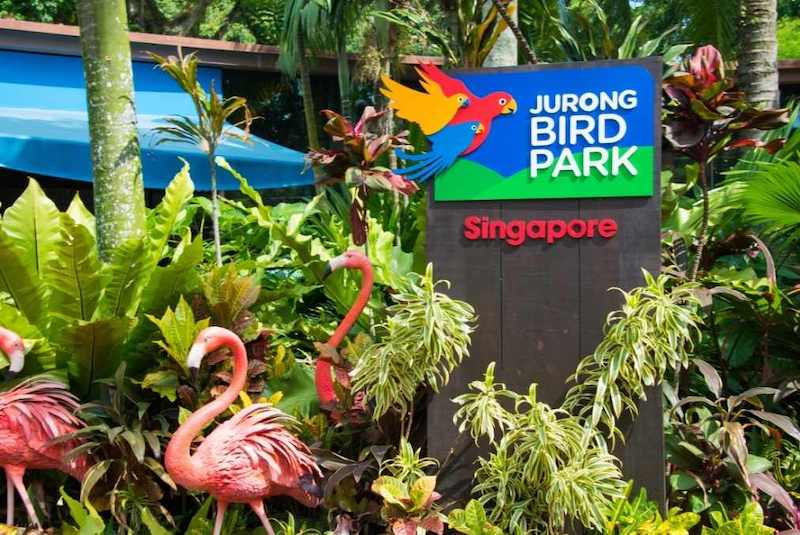 5. Singapore Zoo and Jurong Bird Park
A couple of miles away from the city center is Singapore's Zoo. The housing of the animals seems to be really good here and the size of the enclosures is bigger than they normally have them in zoos. There are shows you can watch during your visit or you can attend the feeding of some of the animals. But the one thing that's really special about Singapore Zoo is the night safari. Starting from 7:30pm you can go through the whole zoo by yourself or with a guided tour. Because many of the animals are nocturnal you can see them in action and not only have asleep lying around somewhere dozing in the shade. 
10miles further there is another lovely park: Jurong Bird Park. There are thousands of birds in every color you can think of. In a big aviary there are little loris flying around and you can feed them. But be careful, those little birdies are always hungry and very cheeky and are going to sit on your head, bite your finger and so on –which actually is really, really funny 😀
The best way to get to the zoo and to the bird park is by bus. But the bus stops outside the city center don't have signs –at least I didn't see them. So tell the bus driver where you want to go so he can tell you when you have to get off. 
And put some repellent in your backpack, the humidity in Singapore is very high so it's mosquitos' paradise. Especially in the bird park they bite like they are crazy.
And with all that you should be busy enough in your three days in Singapore.
Last but not least
Singapore is well known for its –sometimes strange- prohibitions and the incredible high fines for these. I (as typical Johnny look in the air) was a little bit worried of doing anything by accident that will cost me a fortune but when you're there it is not half as bad. Everywhere are signs with all the prohibitions that a tourist might cross without realizing that he shouldn't have. So it is impossible to forget about anything.
And one last advice: If you plan to travel Asia for a little longer than the occasional two or three weeks and you're on a budget, you should visit Singapore first, at the end of your trip you might not have the money 😉