To get from Bangkok to Koh Tao, there are basically 3 alternatives. The same three also apply if you want to get to Koh Phangan or Koh Samui, however with slight differences in duration, price, and routes.
If you're looking for exact costs, travel duration, how to book tickets, or information about the journey - you've come to the right place. You can take the bus, train or plane to the south, but in the end you will definitely need a ferry to get to Ko Tao.
A combo ticket is usually the cheapest option and you don't have to worry about additional transportation from Chumphon to Koh Tao. I have already booked separately, only to end up paying an extra 100 baht per person to get to the pier at all. You just never stop learning 😉
Choosing the ferry there are a few options, Lomprayah however is by far the best and most reliable company. If you can, go with them. The whole process is well organized and the buses and ferries are in top condition, which is unfortunately not the case with all companies.
Don't let anyone talk you into much cheaper options. It might be few Baht less, but do you want to spend 4 hours on an overloaded rust bucket instead of 2 hours on a high-speed catamaran?
I hope not, but if you do you are welcome to use the cheapest alternatives. Don't say I didn't warn you.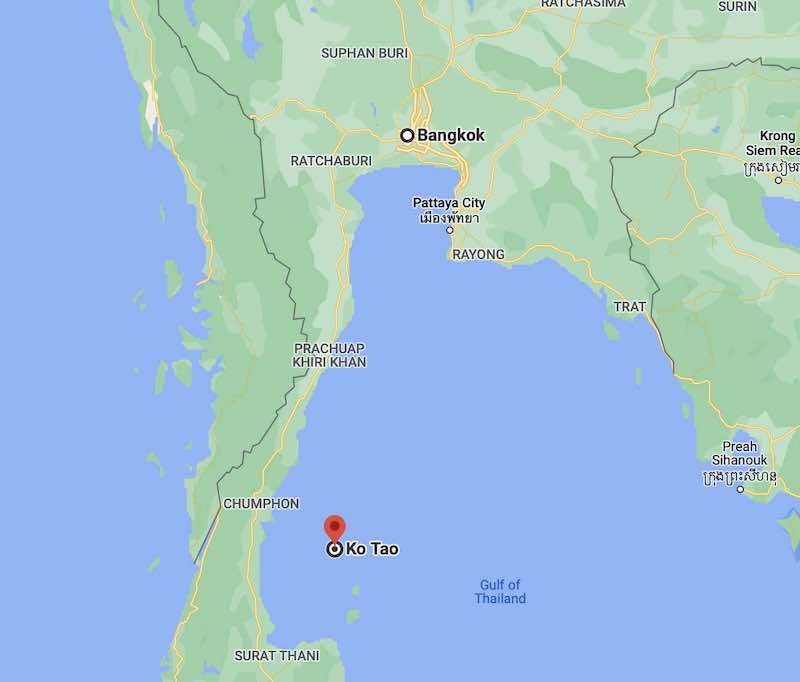 Taking the Bus from Bangkok to Koh Tao
The journey by bus will take your from Bangkok straight to Chumphon. From there your ferry will take you to Tao island. There are various providers which offer package prices for bus & ferry to Koh Tao and it's hard to keep the list up to date as some of them are re-branding constantly.
That's also the reason why I keep on recommending Lomprayah. They offer the best ferries and ice they now offer buses as well, booking the whole trip with them makes your journey to the islands in the Gulf of Thailand much more comfortable.
The easiest and cheapest way is to book online with 12go.asia. You can easily compare prices of all the different options available. Even if decide to book in a ticket office, this is a good reference point to know what alternatives there are and how much the trip is. Ticket offices tend to over charge if they sense that you don't know the prices.
The bus ride
Depending on the company, your bus ride to Chumphon will take anywhere between 8 to 10 hours. The buses usually leave in the evening, so you arrive early in the morning in Chumphon. Be on time at the agreed meeting point, as you have a choice of seats if you are there early enough.
There's a stop during the trip to buy food, go to toilet, and walk a few steps. So you don't necessarily need to buy snacks for the trip. However, the bus drivers decide when this stop will be. So, to be safe better pack some snacks and drinks.
Once you arrive in Chumphon you will have to wait a few hours. If you are lucky it will take 2 hours, but I also waited almost 4 hours at one time.
Prices
approx. 1450 Baht (ca. $38)
Taking the Train
The train can be much more comfortable, but it is slower than the bus. You don't have to worry about food, because there is a "board restaurant" on the train.
If you don't like the selection there are there are also food vendors running through the train before the train leaves. When traveling by train, be sure to book a combination ticket that includes transportation to the pier. Don't make the same mistake I did 😉
The ride on the train
The biggest advantage of choosing the train is the sleeping compartment. Theoretically at least, if you you manage to lie down and get some sleep. In any case, always book a lower bed, the upper ones are cheaper but are not worth. It'is only half as wide, has no window, and reacts much more to the bumpy rails; -you do not want to endure that for 10 hours straight.
If you are lucky enough to take one of the newer trains, you will arrive in Chumphon much more relaxed. In these ones there is even Wifi in the "on-board restaurant", although it is not super stable. There are also reading lamps at your seat and also sockets to charge your smartphone or laptop.
Important note: Due to Covid-19 Thailand still suffers from less tourism in the country. That's also the reason why at the moment (November 22) there are no combo-tickets available. So you have to book the train to Chumphon and the ferry separately. However, you can see that Lomprayah offers an option to include the trip to the ferry port for an additional 150 Baht in the ferry price overview below.
Prices
1729 Baht - 829 Baht for 2nd class sleeper + 900 Baht for the ferry with Lomprayah incl. Van ($45,50)
2190 Baht 1290 Baht for 1st class sleeper + 900 Baht for the ferry with Lomprayah incl. Van( $57,60)
Compare prices here (train price only)
By plane
The fastest way to get from Bangkok to Koh Tao is by plane and ferry. The first and usually cheaper option is to book a flight to Surat Thani airport and buy a Lomprayah ferry ticket that includes a mini Van transfer from airport to the ferry port. Right now, these Lomprayah tickets cost 1100 Baht.
Another option is to fly to Koh Samui and then take the ferry to Koh Tao. For this option you will also need a mini van trip form the airport to the ferry port. Lomprayah also offers a package deal for this at 800 Baht.
The flight
In both cases, the flight itself takes just under an hour. The seats on the plane are a bit small but overall good enough. Once you collected your luggage, you will be transported by minibus to the port. For the trip via Surat Thani you have to fly very early in the morning to get the connection at the airport.
The trip continues 9:30 am by mini van and you will take a high-speed catamaran to the island. You'll reach Koh Tao between 2 and 3 pm.
If you're flying to Koh Samui, the mini van leaves at 10:30 am. The arrival time on Koh Tao is almost the same, you'll be there around 2pm.
Prices
Surat Thani:
Koh Samui airport: 2500 Baht - 8000 Baht + 800 Baht for ferry & van transfer
Compare prices for flights via Koh Samui airport + check van & ferry prices
Compare prices for flights via Surat Thani + check van & ferry prices here
Conclusion
Koh Tao is really a great island to explore, especially If you plan to make a diving license. For those who don't want to dive, there are some amazing and quite affordable snorkeling tours starting from 550 Baht (about $13). Chances are you see some small reef sharks and sea turtles.
I can absolutely recommend the bus trip organized by lomprayah. It's not only cost-effective but will also save you time as you will drive over night. If you feel that this is too uncomfortable for you, opt for the plane. This is a quick and comparably comfortable way of getting to the South of Thailand.
If you are still looking for accommodation, I have a recommendation for you - the Samatha B&B. If this is not for you, Agoda is an excellent site to discover hotels or hostels.
If you want to head further to Koh Phangan and/or Koh Samui, you can either book your ticket online or directly on Koh Tao in one of the many tour and ticket offices.