Pai is a small town in the north of Thailand, about 3 hours away from Chiang Mai. A place that was recommended to me a dozen times; -Everyone raves about Pai. But when I arrived in Pai, the reality hit hard at first. This village sounded much smaller and more intimate than it is in reality.
Don't get me wrong, Pai is still small compared to most other popular places in northern Thailand, but you still can wander around for hours even though there are only about 4,000 people living there.
After my first quick tour around the village I wasn't so sure anymore if that's the right place for me. Sure, the mountains around Pai make for a great scenery, but other than that? As I had no clue what I should do here, I decided to keep it slow and chill. Just after two days, I suddenly noticed how relaxed everything is here.
No one's stressing or harassing you to buy stupid shirts or pants, no annoying "massage, massage" calls, hardly any traffic and still there is everything you need to be happy. I finally found out why this little hippie haven is so popular.
My main recommendation for Pai is - take your time. Pai is not a place to check off quickly. It's rather a place you do not want to leave anymore once you get used to it. But because a trip or holidays aren't only about having a relaxed time doing nothing, here are the top 10 things to do in Pai.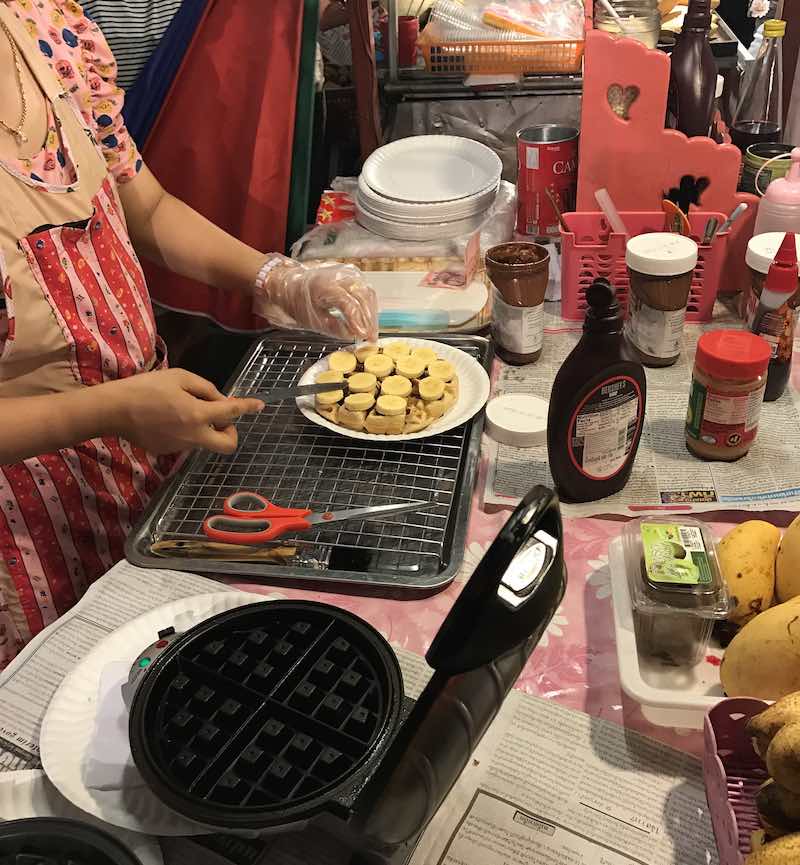 1. Walking Street
You can't miss Walking Street anyway. Every evening, almost the whole village ends up on the quirky night market. It's located right at the village center where all the travel agencies, cafes, bars, stalls are.
Besides the obvious like clothes, accessories, etc. there's plenty of food for everyone, from sushi to barbecue, Thai food, all kinds of fried foods, Belgian waffles, crepes and smoothies. -So don't worry, you won't go hungry.
Pro tip: You should be careful when (tourist-driven) scooters are driving through the market. There is hardly another place in Thailand where you will find so many scooter novices as in Pai. One night I saw a scooter driving almost at full speed right into a trouser stall. - 10 scooters that were parking behind fell like dominoes.
2. Land Crack
On the way to Pam Bok Waterfall, a sign will alert you to the "Land crack". A few years ago, a farmer's land started to split due to soil erosion. Reason enough to make it a tourist attraction, the farmer thought. Now you can get fruits, juice (definitely try: the Rosella juice was mega tasty), nuts and alcohol while inspecting the not so super interesting yet strange-looking crack.
The special thing about this place: The food has no price, it's all based on donations. Definitely one of the more weird things to see in Pai, but well worth a stop.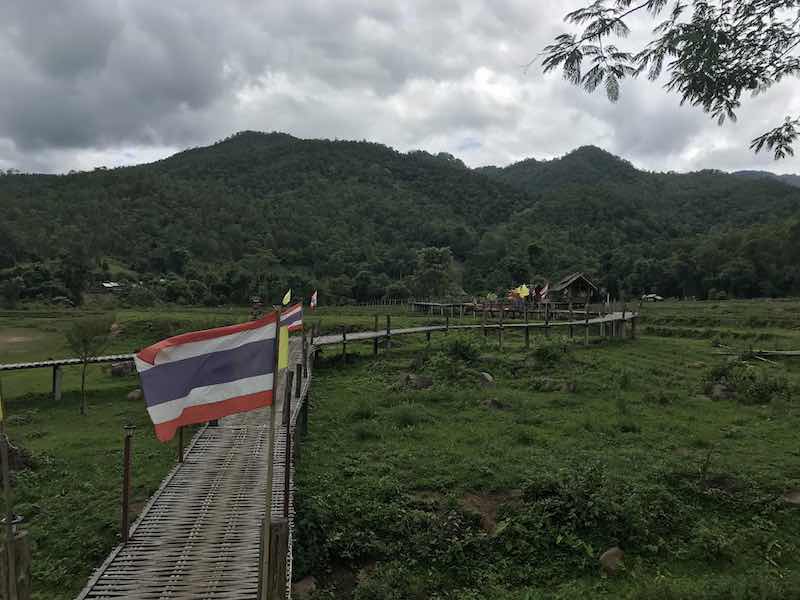 3. Waterfalls
You can also discover plenty of waterfalls in the area around Pai. The 2 most famous are the Mor Paeng waterfall and the Pam Bok waterfall. At both sites you can cool off in the water, the Mor Paeng waterfall even works as a water slide.
Pro tip: if you visit the Pam Bok waterfall, drive a little further afterwards. About 1.5 km from the waterfall is the famous bamboo bridge, especially beautiful to look at if you know the background. The only "source of income" of the monks have, are the offerings they receive from the villagers. So the monks always start their "begging tour" early in the morning, visiting the surrounding houses and villages to get some food. Since the paths around the rice crops are sometimes very long, the farmers have built the bamboo bridge. It significantly shortens the monks' walk and makes their life much easier.
4. Learn To Ride a Scooter
I mentioned that in and around Pai, there are more Scooter newbies than anywhere else in Thailand. The reason for this is probably how easy it is to drive here. Plus, many sights are quite far away and you don't want to get a ride with a Tuk-tuk, Songthaew, or taxi anytime you want to visit a place.
In Pai, there seem to be at least as many scooters as people living there. If you want to discover the area around it, there is simply no better way. Mountains everywhere, everything is green, traffic is manageable and it's so much fun to cruise around the area.
Only on the smaller roads, for example to the waterfalls and hot springs, the road conditions are not quite as great. In any case, you should always be careful to see the next hole in the road in time.
5. Hot Springs
Another highlight around Mai are the hot springs, where you can spend a few hours easily. The better known ones are the Tha Pai Hot Springs, but as the Thai learned that it's becoming a popular tourist spot, they started demanding a whopping 300 baht entrance fee (only for foreigners of course). So rather go to the Sai Ngam Hot Springs, which are not only much cheaper but also more beautiful. The entrance fee is 20 baht per person, plus 20 baht parking fee for your scooter (if available).
6. Eco-Tour with Elephants
Elephant tourism is a difficult topic in Thailand. Similar to the Tiger Kingdom, the treatment of the animals is not what I would call "good" and even elephant riding is unfortunately still on the program of many tour providers.
But there is a great alternative in Pai. Conserve Natural Forest takes care of the reforestation with local trees to then release elephants in this area. Currently there are also 2 pregnant elephants here, which you can visit as part of an eco-tour.
Here, however, it's more important what the elephants want to do and not so much about you. The pachyderms are allowed to do whatever they want, but you can accompany them, bathe with them and help with the project of Conserve Natural Forest.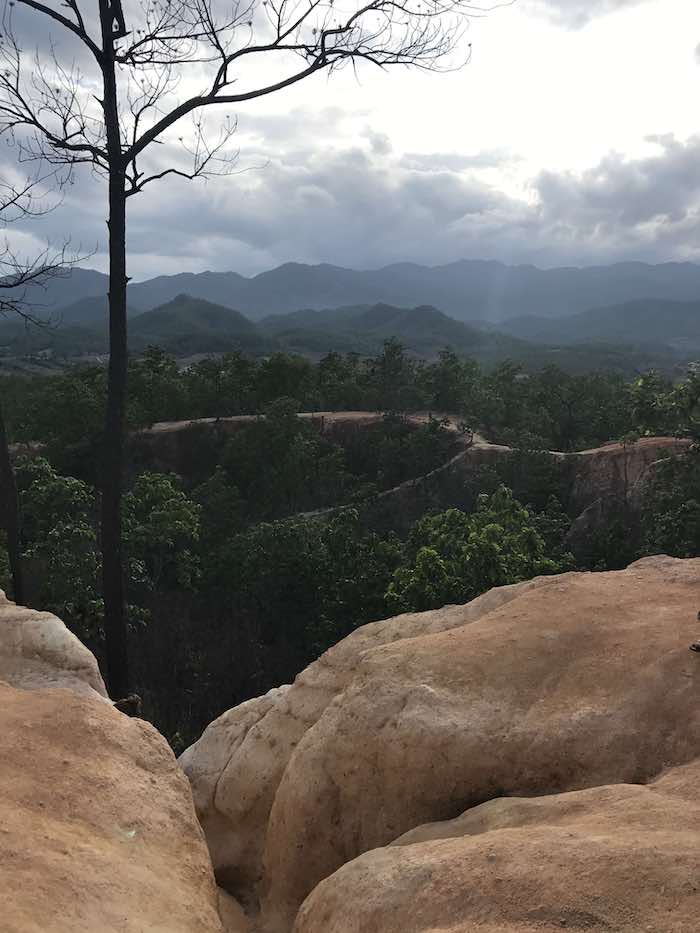 7. Pai Canyon
Enjoying the sunset at Pai Canyon at the end of the day is a great thing to do - if the weather is fine. Unfortunately, it didn't for work out for me and I can't post one of these amazing sunset picture here. Nevertheless, the canyon is worth a stop, even if it is by far not as spectacular as I was led to believe.
8. Circus School
Circus School is a school and a hostel at the same time. The hostel is one of the most popular in Pai, but even if you don't sleep here you can train at the school. It doesn't matter if you want to practice for the next fire show, try slacklining or finally juggle.
For a one-time fee of 600 Baht you can improve your skills. Even if you don't feel like practicing for your next performance, this is definitely a great place to relax and watch others practice.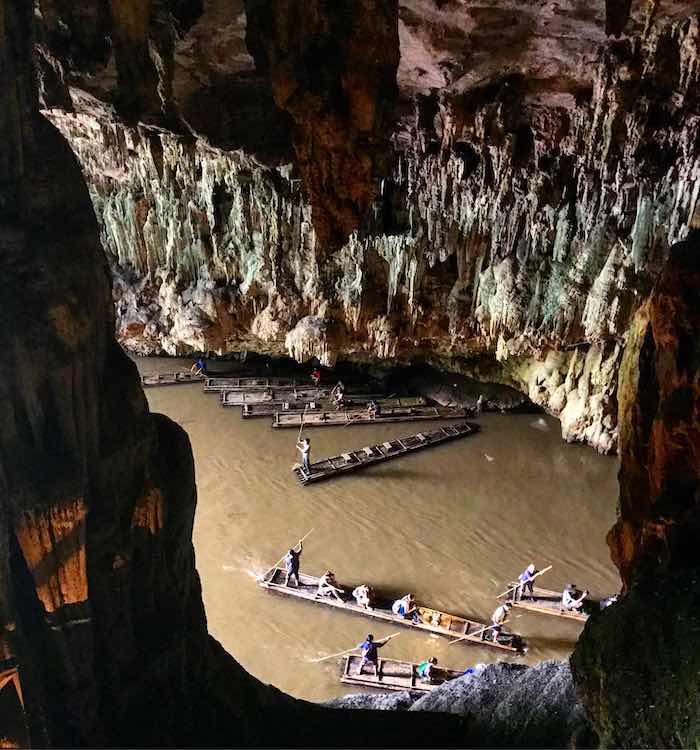 9. Lod Caves
About 50 km north of Pai are the Lod Caves. Entry is only allowed with a local guide, who will then accompany you with lamp in hand through the caves. The guide will cost you 150 baht, for a maximum of 3 people. The caves are absolutely worth a visit, but the really exciting bit are the short trips with the bamboo raft, and also the birds. Thousands of them fly around in the cave, everywhere you can find birds, feathers and bird droppings.
Pro-tip: take a cloth with you and cover your head. More than one person had a new accessory in his/her hair after the tour.
10. Chill in Cafés
There are cafés on every corner in Pai. The great thing is, the majority of them is exceptionally good. Therefore, I don't write up a top list, but leave you with one recommendation: try it yourself!
My personal favorite was the "Lemon & Thyme Café". Tasty breakfast and damn delicious coffee. I will miss the Coconut Iced coffee, the best coffee I had one the whole trip. I visited the Café more than 10 times, just to get another fix of that damn good coffee.
Conclusion
Pai is a great destination and well worth spending a few days there. Don't rush it, take your time, and enjoy the atmosphere. Maybe you will also spot the tiger dog, which can be seen daily in the Walking Street. Sorry, I had to include a photo of him.